Document solutions
Do you spend time manually rewriting data from incoming invoices or delivery notes and you still have to approve documents in the old-fashioned way of hand to hand, when paper goes around the office and sometimes gets lost or you don't know where it is?
If you want to simplify these processes and have firm control over the flow of documents in your company, we have modern tools and services for you that will save you time and reduce your operating costs thanks to automation and digitization.
Digitization center
We operate a modern digitization center, where we professionally digitize documents, extract and validate data, which allows us to fully outsource the processing of your company documents.
Thanks to manual validation, we can guarantee you 99.5% accuracy of the data extracted, which we send to your information system or document management system (DMS).
Our workplace meets the strict standards of the information security management system dictated by the ISO/IEC 27001 standard.
Paperless office
Digital documents with a machine-readable data layer are an inevitable step towards a modern and efficient office. Our own specialized document digitization and extraction center is ready to process your printed and digital documents in full. We will remove any fastening material from the printed documents, sort them logically, scan them, and then, together with the digital ones, extract the indexes you require. We then validate the extracted data in our high-capacity validation center.
Incoming documents
Receipt and processing

of

paper and digital documents
Digitization

of

paper documents
Extraction

of

requested data from documents
Manual validation

of

extracted data
Export

of

extracted data

to

the ERP / DMS system
Storage

of

paper documents for long-term archiving
Storing digital documents

in

a digital archive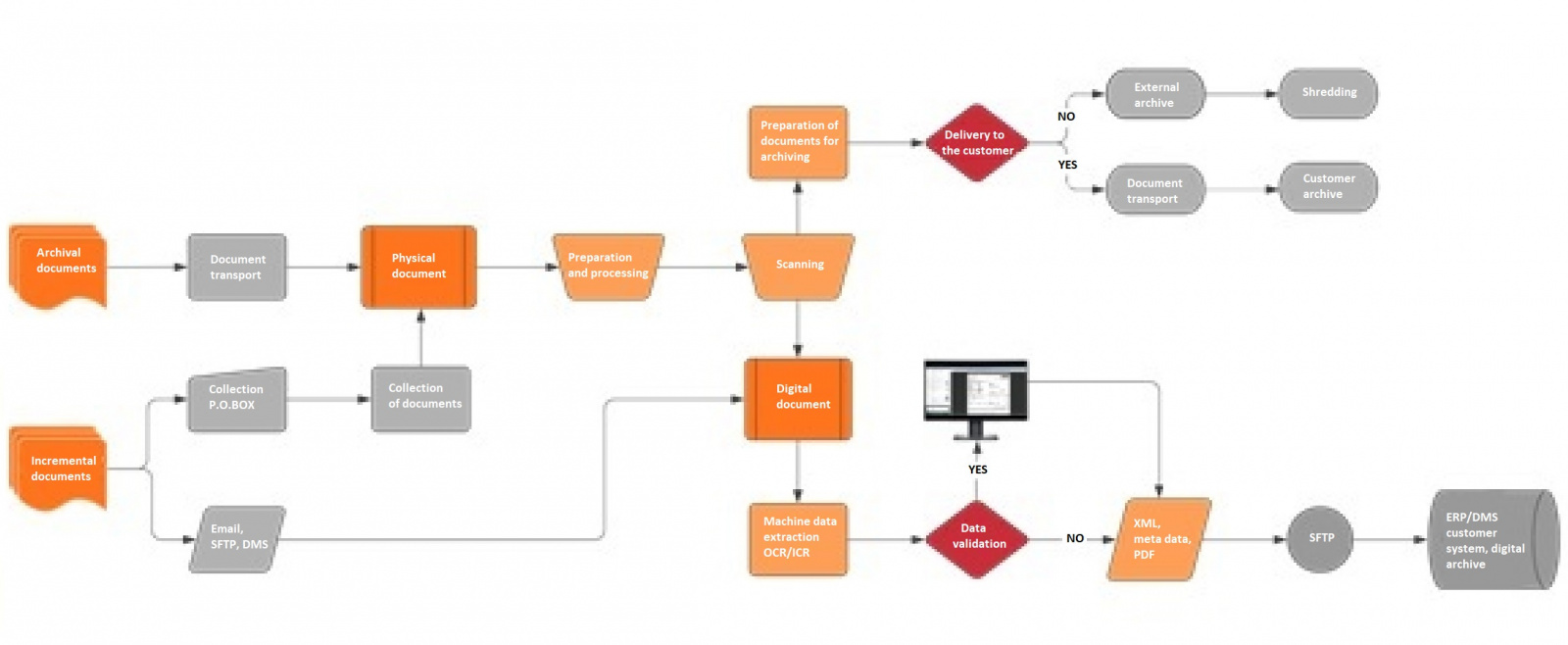 Processing outgoing mail
Receipt

of

documents

in

digital form
Bulk mail / business correspondence / billing
Printing and enveloping
Sending outgoing mail
Registering and reporting
Digital archive
Accepting the physical archive
Preparation

of

documents for digitization
Digitization

of

paper documents
Exporting digitized documents

to

a digital archive
Storage

of

paper documents

in

the archives for long-term archiving
Additional services
of

document solutions
Analyses and consultations for document solutions
Operating registries and reprographic workplaces
Archiving and shredding
Paperless document management system (DMS)
Implementing a document management system (DMS) gives you an effective tool for controlling the flow of documents in your company. You won't have to deal with the problems of "looping" or even losing a document in the approval process.
For each document in the approval process, you get an instant overview of its status; where it's held up, whether it has been approved or not.
For example, in the case of invoices, the DMS can automatically extract data from the invoice instead of the need to manually rewrite it, and in the next part of the approval process allocate costs to centers, match delivery notes or use other forms of automation. At the very end, the accounting data gets imported into your information system.
Implementation

of

software for your document management system (DMS)
Cloud

or

on-premise solution
Full DMS integration into our digitization center
Digital approval and management

of

documents

in

the company
Digital document archive